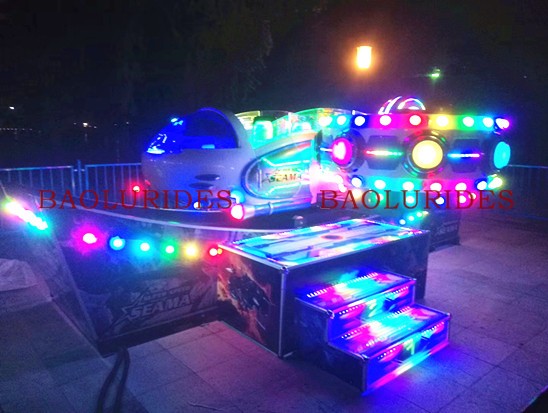 Mini flying Car
Mini Flying car is hot sale series children park rides in Baolu rides.
Now we have designed 7 different kinds mini flying, like old mini cartoon flying car, Mini BMW flying car, Star flying car, Star fighter, Mini flying boat, Double wave flying car, double wave flying boat and so on, we will design new different flying car series in recent year.
chat online
It is made of fiberglass reinforced plastics (FRP), equipped with gorgeous lights, great music, non-fading and durable paint and other advanced electrical accessories, which contributes to the high durability and massive visual shock of the ride.
W-Wave Flying Car is one of the hot sales of children rides, composed of a 3-meter long race car and 5.5-meter long track covered with a PVC plate and LED lights.
The whole ride can rotate clockwise and anti-clockwise, and simultaneously sliding by bottom pulleys backward and forward to make more fun from various movements.
Small coverage and low cost of investment make it very popular in both outdoor and indoor amusement parks.
8

P

MINI FLYING CAR

RIDE

Model:

BL-00

71

Item

6P Mini Flying Car rides

Type

BL-0071

Height

3.5m

Voltage

380V

Power

5KW

Speed

0-8rpm

Capacity

8p

Area

5m*5m
8

P

STAR

FLYING CAR RIDE

Model

:

BL-00

72

Item

8p Mini Flying Car rides

Type

BL-0072

Height

3.5m

Voltage

380V

Power

4KW

Speed

0-8rpm

Capacity

8p

Area

7m*5m
8

P

BUGATTI

FLYING CAR RIDE

Model:

BL-00

73

Item

8P Bugatti Flying Car rides

Type

BL-0073

Height

3.5m

Voltage

380V

Power

4KW

Speed

0-8rpm

Capacity

8p

Area

7m*5m
8

P

STAR FIGHTER

RIDE

Model:

BL-00

74

Item

8P Star fighter ride

Type

BL-0074

Height

3.5m

Voltage

380V

Power

4KW

Speed

0-8rpm

Capacity

8p

Area

10m*5.5m
SINGLE WAVE FLYING BOAT

RIDE

Model

:

BL-00

75

Item

Single Wave Flying Boat

Type

BL-0075

Height

3.5m

Voltage

380V

Power

4KW

Speed

0-8rpm

Capacity

12p

Area

10m*5.5m
DOUBLE WAVE

STAR FLYING CAR

RIDE

Model:

BL-00

76

Item

Double Wave Star Flying Car Ride

Type

BL-0076

Height

3.5m

Running Height

4m

Power

7KW

Voltage

380V

Speed

0-8rpm

Capacity

8p

Area

12m*5m
DOUBLE WAVE

FLYING

BOAT

RIDE

Model:BL-0077

Item

Double Wave Flying Boat ride

Type

BL-0077

Height

3.5m

Running Height

4m

Power

7KW

Voltage

380V

Speed

0-8rpm

Capacity

12p

Area

12m*5m