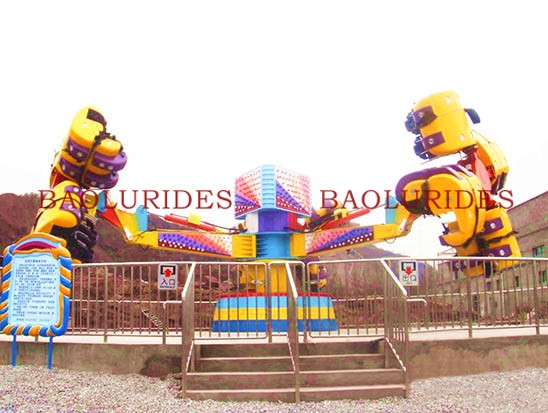 Energy Storm
Energy Storm Ride is also called Energy Claw park ride, one of the most exciting amusement park rides in playground. It is widely used in amusement parks and outdoor playgrounds.
chat online
Energy Storm Ride is made of Steel,coated with fiberglass reinforced plastics (FRP), equipped with gorgeous lights, fantastic music, and non-fading and durable paint. The whole design of classic cartoon figures and colorful painting makes passengers enjoy themselves in your playground.
Energy Storm amusement park ride revolves by 360 degrees to make passengers thrilled. And its rotation is operated by the console at the scheduled time. After start-up, all passengers go around simultaneously, rising and falling, then screaming and laughing will make a happy world in amusement park.
ENERGY STORM
Model

:

BL-0015

Item

Energy Storm

Code

BL-0015

Area

15m*15m

Diameter

φ12m

Rated passenger

24P

Power

40KW

Voltage

AC380V

Height

4.5m

Lifting Height

1.5rpm

Experience index

5 stars

Stimulation index

5 stars