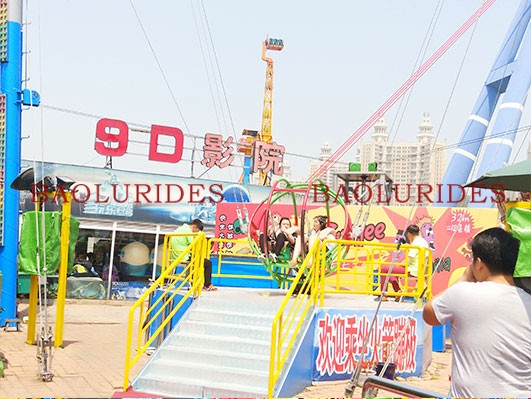 Rocket Bounce
New Rocket Bounce ride, also called launching chair, is replacement rides of traditional rocket bounce ride. The column height is 24m, the max bouncing height is 32m high, it can load 2 passengers one time. Because we change the core power "old lifting machine" into hydraulic pressure pulley assembly structure, it adopt micro computer programme control. Compared with traditional ride, Rocket Bounce ride has bellowing outstanding feature: like high technology, low running cost, easy maintenance, more safe, higher return on investment.
chat online
Rocket Bounce ride can pull the passenger to the high space form static state, passenger can feel the overload and zero gravity, at the same time, when the cabins go up and drop down, it also rotate irregularity, so the passenger can enjoy the excellent thrilling felling.
Thrilling, safe, only thrilling no dangerous, so rocket bounce rides is the nice ride for park rides upgrading.
| | |
| --- | --- |
| 32m Rocket Bungee Jumping Rides | Model: BL-RBJ32 |
| Item | 28m Rocket Bungee Jumping Rides |
| Code | BL-RBJ32 |
| Running Height | 32m |
| Ride height | 24m |
| Power | 15KW |
| Voltage | AC380V 50HZ |
| Capacity | 2p |
| Area | 26m*15m |
| Base construction | Need |
| | |
| --- | --- |
| 36m Rocket Bungee Jumping Rides | Model: BL-RBJ36 |
| Item | 28m Rocket Bungee Jumping Rides |
| Code | BL-RBJ36 |
| Running Height | 36m |
| Ride height | 28m |
| Power | 15KW |
| Voltage | AC380V 50HZ |
| Capacity | 2p |
| Area | 28m*15m |
| Base construction | No need |